David Gilmour is one of my absolute heroes, I'm listening to the Live at Pompeii album he released a few years ago as I write this – I also have a photograph of him tattooed on my leg. That being said, he's also a really great guy from the sounds of it and is offering a bunch of his guitars for sale.
The sale is being handled through Christie's and you can check out their website for some more details. One of the interesting things that I noticed is that they have grossly undervalued The Black Strat coming in at $100,000-$150,000. I'd be willing to bet that this guitar passes a million dollars in this auction, time will tell but at least I have it documented here so I can say I told you so.
'Many of the guitars in this sale are guitars that have given me a tune, so a lot of them have earned their keep, you might say. These guitars have given so much to me, and it's time for them to move on to other people who hopefully will find joy and perhaps create something new.' — David Gilmour
This type of rockstar auction thing generally doesn't really do much for me but these guitars as David says, have already given songs. I happen to be obsessed with a lot of those songs so the instruments hold some significance for me. Theres a book that was released a while ago aptly titled "The Black Strat" which I happen to own and flip through more often than I'd like to admit, and Gilmour talks about how instruments are just tools to him and how he finds it peculiar that people put so much thought and attribute so much value to things he just views as objects – this auction is a good illustration of that. Good on him for being willing to part with these things that have defined the sound of his career.
My only concern with this auction is that he will be stepping away from touring, I saw him in Chicago on the last tour and it was an absolutely amazing experience that I really hope I'll be able to replicate some day. I know that these guitars don't necessarily matter in order to be able to take a show on the road but it definitely seems like something that somebody his age might want to do while winding down after such an incredible career. Thanks for the music, David.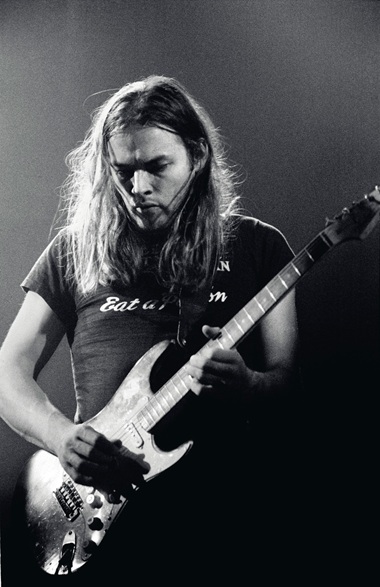 David with the Black Strat - Photo from Christies
Looking forward to this auction and seeing how much he manages to raise for charity. For a bit more information Christies has a pretty good article specifically about The Black Strat as well as the auction main page.